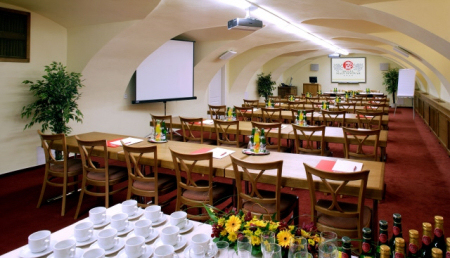 "U Haška" congress saloon
Profit of the possibility of the corporate meeting at the Malý Pivovar Hotel.

We take the liberty of offering you the use of the stylish premises of the Malý Pivovar Hotel****, which are virtually made for the organization of special events such as your corporate meetings.
Our employees' experience with incentive tourism and our wealthy offer of specialties is sure to meet your requirements and fulfil your expectations. We arrange complete corporate events, congresses, conferences, company anniversary parties, product and service presentations and promotion, press conferences, Christmas and New Year's parties, employee parties and celebrations on the occasion of your meetings with business partners.
Apart from the areas available to you at the Malý Pivovar Hotel we have long-term experiences in the organization of catering events, promotion events, conference services and arranging family celebrations at your own home. We are opened to listen to and meet each of your requests and demands. Based on your requirements we are capable of arranging your own program including an attendant events starting with a tour of the Budějovický Budvar brewery.