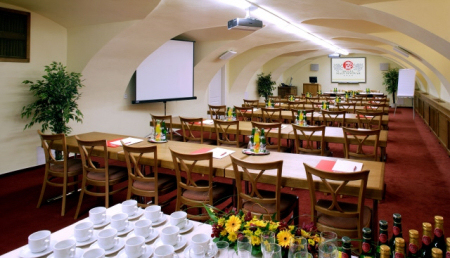 U Haška congress saloon
Profit of the possibility
of the corporate meeting at the Malý Pivovar Hotel.


Pricelist of equipments´ rent
Rental includes equipments' rent.
Projection part Datavideoprojektory – Two pieces of video data projectors, main projection on the interactive screen, and additional projection on the tripod roller screen which is situated at the back of the room. The joint projection mode enables to watch the same content on both screens including the interactive presentation from the touch screen. Interactive touch screen - enables to control the presentation directly from the projection screen using hand or pen, adding notes and highlighting, consequent saving and processing documents in electronic form.
Audio part - sound distribution Audio system enabling 2.1 stereo mode (congresses, presentations or conferences) or 5.1 space sound mode (DVD movie projection).
Control system Enables to control functions of particular facilities as well as whole room modes including light modes etc. from one place (i.e. wireless color touch panel). Distribution of the signal for the data projectors and the audio system is provided by the matrix signal switch.
Other facilities Wireless microphone for the speaker Digital graphic visualiser (document camera) - capture and projection of printed and 3D originals
DVD player/ VHS video recorder 19" technology switch designed matching the interior furniture